The dropping of entry restrictions in many countries helped spur a wave of international travel in April, according to the International Air Transport Association. China was the most notable exception to the strong global recovery trend.
April passenger air volume was down 37.2 percent recovered compared with April 2019 levels, versus March's decline of 41.3 percent in the commensurate period. Revenue passenger kilometers in April were up 78.7 percent year over year, compared with an increase of 76 percent in March.
"With the lifting of many border restrictions, we are seeing the long-expected surge in bookings as people seek to make up for two years of lost travel opportunities," IATA director general Willie Walsh said in a statement.
[Report continues below chart.]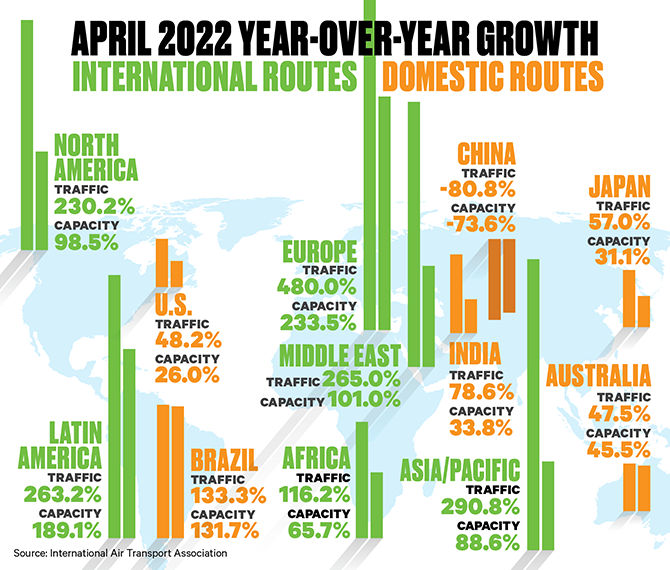 Total April global capacity as measured in available seat kilometers was up 45.5 percent year over year, close to the 46 percent increase reported the month before. Capacity was down 32.9 percent compared with April 2019. Europe's year-over-year increases in traffic and capacity were the world's highest, at 301.6 percent and 172.5 percent, respectively. The only region where traffic and capacity declined year over year was Asia-Pacific, which plummeted 25.4 percent and 25.3 percent, respectively.
That figure was driven by China, which spent April restricting travel amid an outbreak of the Covid-19 omicron variant. April domestic traffic in China declined 80.8 percent year over year, and capacity dropped 73.6 percent.
"April data is the cause of optimism in almost all markets, except China, which continues to severely restrict travel," according to Walsh. "The experience of the rest of the world is demonstrating that increased travel is manageable with high levels of population immunity and the normal systems for disease surveillance. We hope that China can recognize this success soon and take its own steps towards normality."
China's restrictions "entirely" drove a year-over-year decline of 1 percent in April global domestic air demand, as compared to March's 10.8 percent year-over-year increase. The United States, Australia, Brazil, India and Japan each recorded strong year-over-year domestic demand and capacity increases in April.
Total global load factor was 77.8 percent.
In noting the demand rebound following border reopenings, Walsh criticized the manner in which governments handled Covid-19 restrictions and the recovery.
"With governments making U-turns and policy changes, there was uncertainty until the last minute, little time to restart an industry that was largely dormant for two years," according to Walsh. "It is no wonder that we are seeing operational delays in some locations. In those few locations where these problems are recurring, solutions need to be found so passengers can travel with confidence."
RELATED: IATA: March Air Demand Rebounds at Slightly Slower Pace