Despite a slowdown in the pace of year-over-year total increases, passenger air traffic in March was the closest to 2019 levels since the pandemic began, according to the International Air Transportation Association.
March passenger air volume was 58.7 percent recovered compared with March 2019 levels, versus February's 54.5 percent. Revenue passenger kilometers in March were up 76 percent year over year, compared with an increase of nearly 116 percent in February.
Effects on air travel from the conflict between Russia and Ukraine were "limited." However, the Covid-19 omicron variant spread in China has affected domestic air travel, though not international traffic for Asia-Pacific carriers, according to IATA.
[Report continues below chart.]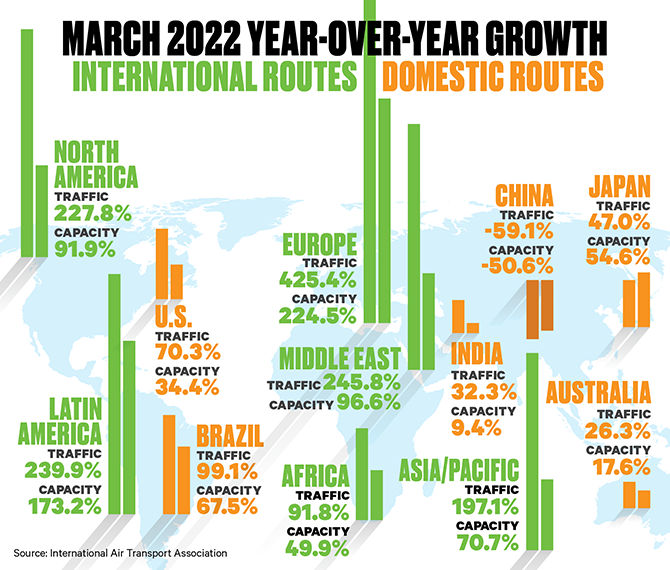 "With barriers to travel coming down in most places, we are seeing the long-expected surge in pent-up demand finally being realized," IATA director general Willie Walsh said in a statement. "Unfortunately, we are also seeing long delays at many airports with insufficient resources to handle the growing numbers."
Total global capacity was up 46 percent year over year, representing a slowdown from the increase of 68.4 percent in February 2022. Capacity was down 35.5 percent compared with March 2019. Europe led both traffic and capacity changes, at 246.9 percent and 162.8 percent, respectively . Asia-Pacific continued to report year-over-year declines for both categories, at 17.9 percent and 14.9 percent, respectively. Total load factor was 74.7 percent.
March domestic air traffic continued its recovery, increasing 11.7 percent year over year, representing a 23.2 percent decline from March 2019 levels. Domestic capacity was up 1.5 percent year over year and was down 18.4 percent from 2019 levels. Brazil showed the strongest year-over-year traffic increase at 99.1 percent. China's domestic traffic declined 59.1 percent, due to "drastic lockdowns" and travel restrictions following the spread of omicron in the country.
Still, Asia-Pacific airlines saw international traffic increase 197.1 percent year over year in March, up from the 146.5 percent increase in February, following relaxed restrictions in South Korea, New Zealand, Singapore and Thailand. Every region except Africa reported triple-digit percentage increases in international traffic, with Europe leading the regions at a 425.4 percent gain as well as a 224.5 percent increase in capacity.
"The ongoing recovery in air travel is excellent news for the global economy, for friends and families whose forced separations are being ended, and for the millions of people who depend on air transport for their livelihoods," Walsh said.
RELATED: IATA: February Air Demand Rebounds After Omicron Dip